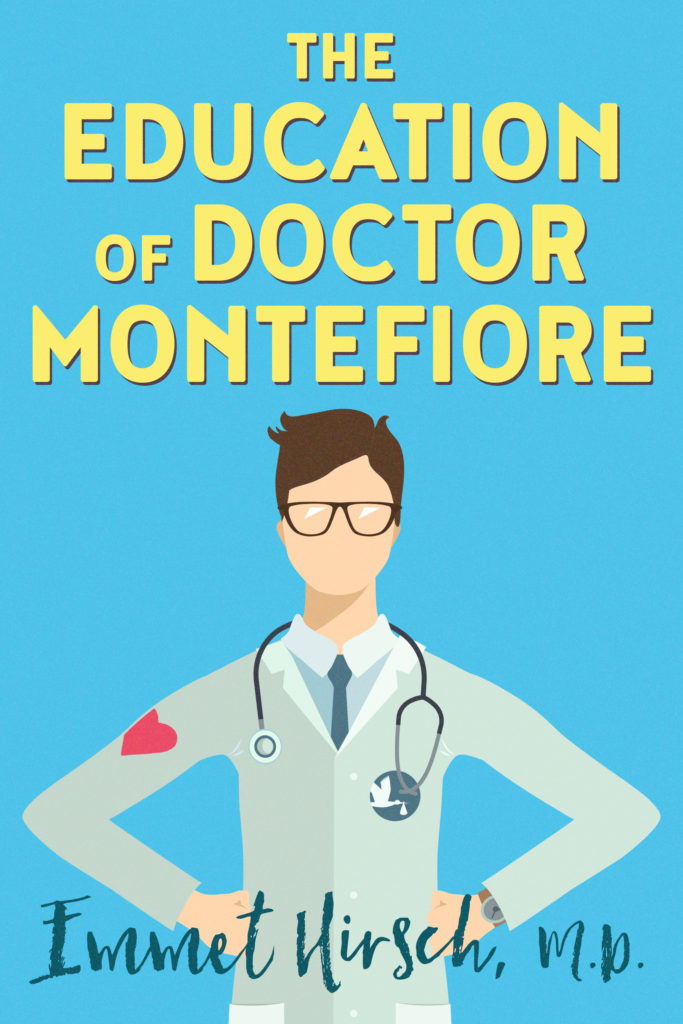 The Education of Doctor Montefiore
Robert Montefiore graduates from medical school and plunges into the sink-or-swim world of a residency in obstetrics and gynecology. He sinks.
As if his fears of inadequacy were insufficient, he receives plenty of external validation in the form of critical supervisors, incapacitating fatigue and sick patients. He has fallen in irrational love at first sight with first-year medical student Maggie, and his efforts to woo her all end in disaster. He must find a way to thrive during this four-year trial by fire or be destroyed in the process.
The Education of Dr. Montefiore is set in the fictional Chicago School of Medicine Hospital, a place where heroism and selflessness share the wards with vanity and ineptitude. Hilarious and poignant, this novel explores the themes of self-discovery, the role of institutions and individuals in inspiring young doctors, and the miracles manifest in the functioning of the human body.
The Education of Doctor Montefiore
"The lively, warmhearted novel is peopled with vibrant secondary characters…Hirsch achieves a nice balance between medical procedures, raunchy set pieces…romance, and humor…The ensemble cast is among the work's greatest strengths…Thanks to a sympathetic, hapless protagonist and his Scrubs-like backup team, this engaging tale sparkles." Kirkus Reviews
"The Education of Doctor Montefiore, the debut novel of Emmet Hirsch, MD, is a poignant and humorous book about the path to becoming a doctor, and it draws back the curtain on the darker aspects of that road traveled. We get a glimpse into the fear and heartbreak, life and death situations, and constant sacrifices inherent in the medical profession…The scenes of his attempts at romance were simultaneously cringe-inducing and made me laugh out loud. I'll never again look at a bagel shop in quite the same way…The characters populating this story, from the lovable to the despicable, are sharply drawn…they are so endearing you happily go along for the ride. And quite a ride it is…The dialogue is crisp and witty…The humor, while maybe not quite as dark as Catch-22 or M*A*S*H, occupies the same space…I enthusiastically recommend The Education of Doctor Montefiore to anyone looking for a smart read, a good laugh, or insights into the minds of those who spend their lives caring for us."
Ed Sarna, Windy City Reviews
"A sobering and inspiring reminder of the experience of residency and its roller-coaster of emotions. Dr. Emmet Hirsch captures the events and the emotions in a style that is both raw and honest, punctuated with hope and humor and exquisite character development. This is a hard book to put down. We need dedicated, skilled, compassionate physicians like the fabulous Dr. Montefiore. And we need authors like Dr. Emmet Hirsch to entertain us, but just as importantly to keep us honest, hold us accountable, and remind us why we entered the profession to begin with."
Errol R. Norwitz, M.D., Ph.D., M.B.A.
Louis E. Phaneuf Professor of Obstetrics & Gynecology
Tufts University School of Medicine
Chairman, Department of Obstetrics & Gynecology
The Education of Doctor Montefiore is a must-read for med students, residents and all doctors seeking to survive and thrive as healers in the complex and demanding world of 21st Century medicine. Thank you, Dr Hirsch, we proudly support your vision and your work.
Robert Meekins, CEO & President, Med School Tutors
Standing at the foot of the bed during a delivery as a physician or beside the mother as family or staff, the experience is often relayed as indescribable. But the novel pulls it off, reading as a third person narrative while shedding equal light upon the good, the bad, and the ugly of academia, the OBGYN specialty, and the draconian hierarchical complexities of residency…The palpable mental and physical exhaustion of residency strafes the reader from humorous to sad…keeping you guessing and eager for resolution…it's an entertaining and rapid read for a 300-pager.
Guero, The Student Doctor Network
"Vivid storytelling thrusts you inside the grisly, tragic, yet absurdly hilarious world of an ob-gyn residency. Brutally candid and authentic."
Dave Cullen, author of the New York Times bestseller Columbine
Robert's journey was very uplifting and inspiring to read…proving that perseverance and being true to yourself can be worthwhile….Robert's journey had me laughing, smiling and crying and I would recommend it to anyone that works in medicine, or is in a 'why am I doing this?' point in their life and/or career.
Jodie K, Whispering Stories
"Equal parts high send-up and heartfelt reflection, Emmet Hirsch's The Education of Dr. Montefiore offers up trenchant analysis of the personal and professional paths of those who take a sacred oath on behalf of life. These characters, so rich with burden, will leave the reader both puzzling over the folly of learned men and women who trifle with gods, and marveling over the author's examination of vexed personalities jostling for supremacy amid the madcap, the maudlin, and the inevitably mortal."
Bayo Ojikutu, author of Free Burning and 47th Street Black